The Post makes a pretty strong case with very few words: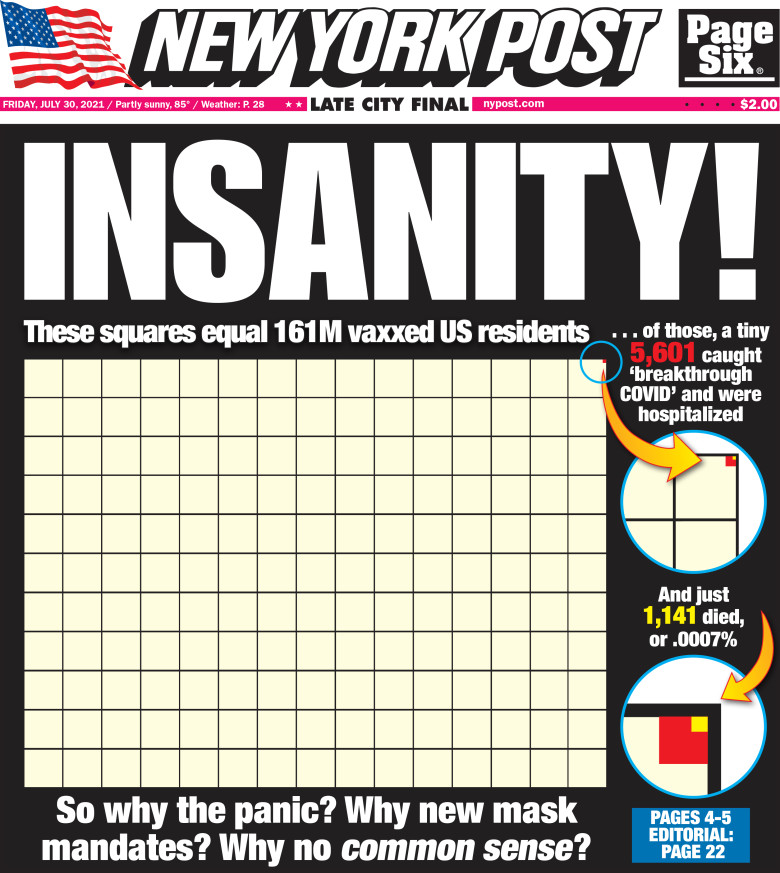 Given Americans' general innumeracy, and their apparent amnesia (it was "two weeks to flatten the curve" back in March of 2020), this is probably a much more powerful bit of pro-liberty counter-propaganda than any amount of reasoned arguments.
I'd humbly note, however, that asking "why no common sense?" these days is itself a kind of insanity.
Sanity is in very short supply: case in point, Australia.
A story at news.com.au is worth noting as a counterpoint to the Post (all emphases my own):
The headline: "QLD Covid-19 outbreak: 'Dangerous Delta' sends state into lockdown."
The lede: "Queensland is on edge following the chilling warning the virus 'could be anywhere' after an infectious person travelled widely."
The opening:
Queensland has commenced a snap three-day lockdown after Health Officer Jeannette Young admitted the virus "could be anywhere" in south-east Queensland, due to just one person.

The terrifying nature of the outbreak centres around a medical student, who "travelled widely through Brisbane" while infectious as the state announced six new infections, taking the total to seven cases.
Meanwhile, in Sydney, they're deploying troops to enforce a stay-at-home lockdown:
Australia has deployed hundreds of soldiers to Sydney to help enforce a Covid lockdown.

A Delta outbreak which began in June has produced nearly 3,000 infections and led to nine deaths.

Australian Defence Force soldiers will undergo training on the weekend before beginning unarmed patrols on Monday.
Common sense?
Never heard of it.